Sunday, September 21, 2014
Checking out the People's Climate Marches
Some memorable photos --
New York city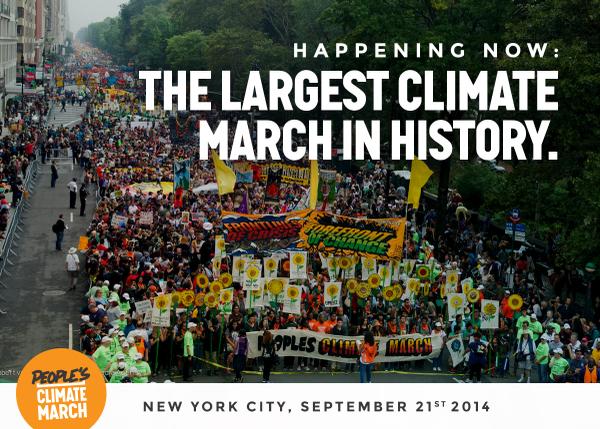 People's Climate on Twitter
:
RT @JennaBPope @LeoDiCaprio ~ GO LEO! THX for hitting the street! #PeoplesClimateMarch #PeoplesClimate #NYC 9/21/14 pic.twitter.com/u4rrhxxRtz

— Mike Hudema (@MikeHudema) September 21, 2014
Sydney, Australia: Beyond Coal + Gas
So happy to have been a part of #peoplesclimate in Sydney today. @michaelcaton was amazing. @350Australia pic.twitter.com/gbuB9RNFxn

— Jane Nicholls (@janey64) September 21, 2014
Berlin
In Berlin, 3 marches are converging on the Brandenburg Gate. Marches ongoing in Paris, London & more #PeoplesClimate pic.twitter.com/gdznFLLsad

— CAN-International (@CANIntl) September 21, 2014
Paris
25,000+ at #PeoplesClimate march in Paris. Thousands in Rome. Check it out: http://t.co/67eL5KLygg pic.twitter.com/KufdDJ5wqm
— Avaaz (@Avaaz) September 21, 2014
Toronto
#Toronto showing solidarity with #NYC #climatemarch #PeoplesClimate #PeopleClimateMarch pic.twitter.com/bzeNiXZOkq

— Rebecca Spring (@rspring) September 21, 2014
Recommend this Post at Progressive Bloggers
|
1 comments
1 Comments:
There sure are a lot of people buying into the UN entreaties for nations to cede their land use independence and pay a tax on energy - to be administered by the UN. How terribly convenient.
You'd almost think they had some facts in hand...rather than speculation without confirmation i.e. data...not models or projections. BTW What the heck is climate science ? Can it actually DO anything ?
Kuna Yala Reject Carbon Trading
http://www.watershedsentinel.ca/content/rejection-carbon-trading-indigenous-communities-kuna-revolution
How better to Communicate (sic) Science
http://unsettledclimate.org/2012/02/02/clarifications-and-how-better-to-communicate-science/
Peer Review Stifles 'Unfashionable' Research
http://tallbloke.wordpress.com/2014/06/03/scientists-letter-peer-review-stifles-unfashionable-research/
History of Climate Fears
http://fabiusmaximus.com/science-nature/science-history/
U.S. Senate Minority Report : over 650 international scientists dissent over global warming claims : debunk 'consensus'
http://www.epw.senate.gov/public/index.cfm?FuseAction=Minority.SenateReport
Email me!