Sunday, September 21, 2014
Saskatoon's Press Release War has begun!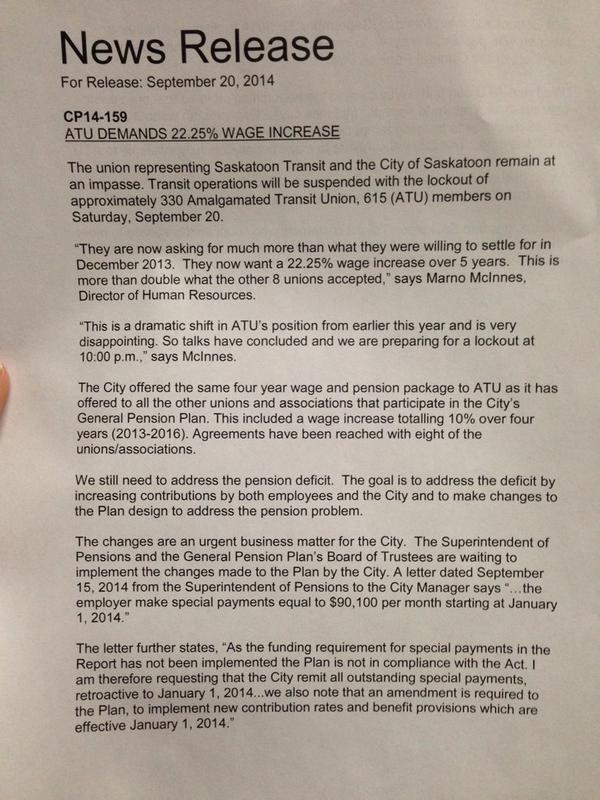 I see the first shot in the press release war between the city of Saskatoon and its bus union was fired by the city tonight when they locked out the bus drivers -- likely we can expect to see an answer tomorrow from
ATU Local 615
.*
I am totally annoyed about how the city has been managing our transit system lately -- this lockout is the last straw. SaskatoonHomepage News
summed it up today
:
Saskatoon Transit is dealing with a multitude of issues at the moment: a transit union dispute, lack of mechanics, lack of available buses and route disruptions. And that doesn't even touch on the recent incident where a 9 year old stole a city bus that had been left running. SaskatoonHomePage News has asked repeatedly in the last week what the status of the [Calgary] buses are, that were ordered to alleviate the shortage of working buses, which have caused service interruptions for riders. The response from the city has been "we're working on it". Working on what has not been specified.
Of course, if the "previously-owned" buses need repairs, the city has locked out the bus mechanics, too.
But if you want to see someone who is absolutely furious, don't miss the tweets from
Max FineDay
, president of the 11,000-strong University of Saskatchewan Students Union. It was only a few years ago that the city and the student union worked out a deal whereby all students would pay for bus passes with the guarantee that the transit system would improve for students.
Yeah, right:
Its official, #yxe has locked out transit operators. Our community loses faith in #yxecc & our transit system #skpoli pic.twitter.com/qvmuhmr3jH

— Max FineDay (@MaxFineDay) September 21, 2014
*Here it is already!
2/2 Results show that the plan is actually in a surplus not deficit. City may not have to pay the $90,100 monthly. pic.twitter.com/W5dGFMAvCJ

— Eric Beck (@GlobalBeck) September 21, 2014
Here is
the document (PDF)
.
Recommend this Post at Progressive Bloggers
|
0 comments
0 Comments:
Email me!