Thursday, October 17, 2013
This is very bad and its going to get worse
photo
The Mi'kmaw protest against hydro-fracking in New Brunswick has been going on for months. So why was it this morning that RCMP moved in?
Rabble says
:
It is more than coincidental timing -- it was obviously strategically calculated with the completion of the Governor General's Speech from the Throne and the end of the United Nations Special Rapporteur James Anaya's visit to Canada. Yesterday morning, we awoke to reports from the Mi'kmaw of swarms of RCMP dispatched to Elsipogtog to enforce Harper's aggressive natural resource agenda. He has effectively declared war on the Mi'kmaw.
The Rabble article also describes what happened this morning:
Media reports 200 RCMP officers were dispatched, some of them from the riot squad, armed with shields, assault rifles, batons, tear gas, rubber bullets, pepper spray and snipers. Some of the RCMP, in full camo, hid in the woods, while the others formed a large barricade on the highway blocking any movement by protesters.
The Chief and Council were arrested, as well as numerous other protesters all while scrambling cell phone signals, cutting live video feeds and blocking media access to the site. Reports of RCMP pointing their assault rifles at elders and snipers aiming their scopes at children led to the burning of several RCMP cruisers.
Here's another photo from an earlier
Krystalline Kraus article
, also in Rabble:
And
more photos
: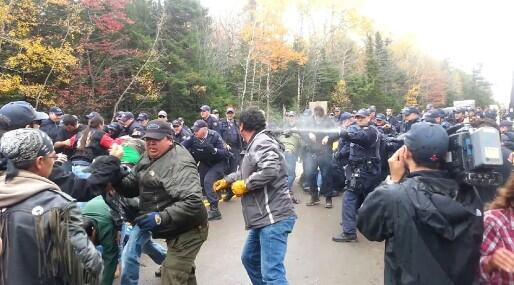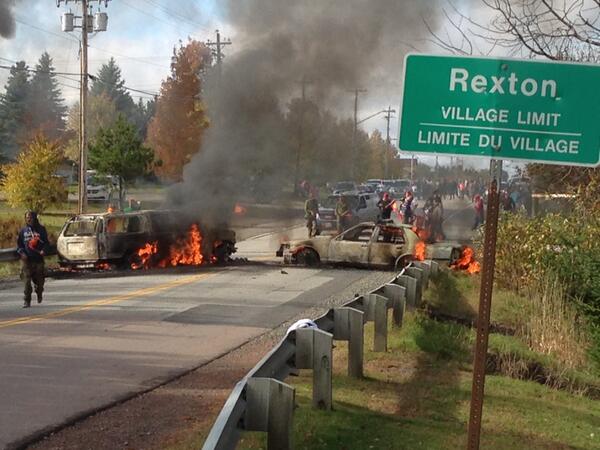 Of the 11 photos in a
Toronto Star photo gallery
, seven of them were of the burning cars. The media just LOVE burning cars, don't they.
Recommend this Post at Progressive Bloggers
|
4 comments
4 Comments:
This comment has been removed by a blog administrator.
By

Trekking in Nepal, at 12:49 am
Are we being told that all those armed men couldn't prevent seven police cars from being set on fire? this is a put up job.
By

Anonymous, at 5:15 am
Most Canadians know? Harper will use every dirty tactic in the book, to get his own way. Most of us also believe, Harper cheated to win his election with, his robo-call scam. The burning Police vehicles fraud, has been used before. The Police bring in their old Police cruisers, and set them on fire. Remember the summit?

It is said? Police crash peaceful protests, with their faces covered. When asked to take their covers off their faces? They simply vanish.

This is just another of Harper's dirty tactics, among many of Harper's dirty tactics.
By

Anonymous, at 1:50 pm
When I watched this on the news, I was shocked. For some reason I didn't know there was a blockade and then to see the RCMP lined up like a military group ready to make war on a group of civilians, I just shook my head.

This is what I expect to see in /B.C. in due course. The RCMP will do the dirty work the armed forces can't. Expect to see more of this type of violence. Protestors need to take a page out of the handbook the Japanese farmers used 30 yrs ago.

People need to go to protests with helmets, padded clothing, breathing masks, water, face shields. If they do not, they will suffer injury. Protestors will need the same shields the RCMP carry so they can not be beaten. Protesting is not going to be what we did in the past unless people go the Ghandi route. If they do that, they will need international newscasters to film it all and get it out.
By

e.a.f., at 5:58 pm
Email me!